Find a car that fits your purpose
I want to rent a car that is suitable for a big party.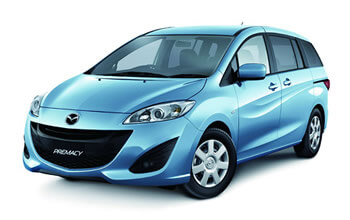 Premacy(Mazda5)
If your party has more than five passengers, RVs or vans will work great! Let's make a lot of noise and head to the final destination.
Vehicle Type

Recreational Vehicle
Vehicle Category

W-2
Seating Capacity

7 People
Rough Capacity

2 Caddie Bags or 2 Travelling Bags.
Detail/Price
Other Recommendations
MPV

Vehicle Type

Recreational Vehicle

Vehicle Category

W-3

Seating Capacity

7 People

Rough Capacity

2 Caddie Bags or 2 Travelling Bags.

Detail/Price

Biante

Vehicle Type

Recreational Vehicle

Vehicle Category

W-4

Seating Capacity

8 People

Rough Capacity

2 Caddie Bags or 2 Travelling Bags.

Detail/Price
*Pictures shown on above are image only.
Actual vehicle model might be different