Naha Airport Location RENEWAL!
On July 2nd (Monday), Naha Airport location will be moving its location to a brand new office.
For our customer's better accomodation and convenience, Times Car RENTAL Naha Airport has added a new 5-story parking lot and expanded the number of counters.
Our Naha Airport rental location is also equipped with an on-site gasoline (petrol) station.
Now the customers can easily refuel the rental vehicle upon return. Moreover, we have installed a multi-story parking lot so that the customers can easily pick-up and return without getting wet in the rain.
The NEW Naha Airport location will be the closest car rental station from Naha Airport -
approximately 3 minutes by our free shuttle bus (based on internal research).
Please enjoy driving in Okinawa with Times Car RENTAL.
New Location Name
Times Car RENTAL Naha Airport
New Location Address
457-1 Kagamizu, Naha-shi
TEL: 098-857-0802
FAX: 098-857-1784
Access
1.5km from Naha Airport
3 minutes by free shuttle bus.
*May change due to traffic.
Please click here for more detailed information.
We await for your visit soon.
Thank you.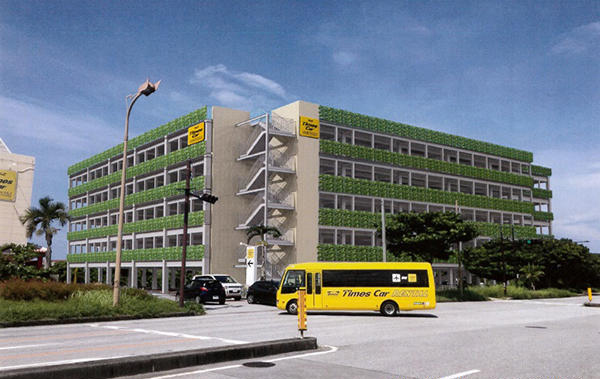 *Image of the multi-storey parking lot.
Please be advised the actual building may differ from the above image.