Find a car that fits your purpose
I want to rent a vehicle which is suitable for driving in the city with my friend!!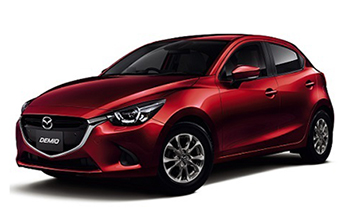 Demio (Mazda 2)
Easy to drive even at narrow street. It is very good compact car if this is your first time to drive in Japan.
Vehicle Type

Compact
Vehicle Category

C-1
Seating Capacity

5 People
Rough Capacity

2 Caddie Bags or 2 Travelling Bags.
Detail/Price
Other Recommendations
Note

Vehicle Type

Compact

Vehicle Category

C-1

Seating Capacity

5 People

Rough Capacity

2 Caddie Bags or 2 Travelling Bags.

Detail/Price

Axela 1500

Vehicle Type

Sedan

Vehicle Category

M-2

Seating Capacity

5 People

Rough Capacity

2 Caddie Bags or 2 Travelling Bags.

Detail/Price
*Pictures shown on above are image only.
Actual vehicle model might be different